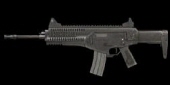 Weapon description:' The ARX-160 is an assault rifle manufactured by Pietro Beretta S.p.A.. Developed for the Italian armed forces as part of the Soldato Futuro (Future Soldier in English) program, the ARX-160 has been launched in the year 2008 as a commercial weapon system independent from the Soldato Futuro ensemble, complete with a companion single-shot 40mm NATO low-velocity grenade launcher, called GLX-160, which can be underslung to the rifle or used with an ad-hoc stock system as a stand-alone weapon.
Weapon stats:
Caliber: 5.56x45mm
Fire mode: Semi/Full
Accuracy: 67
Mobility: 73
Range: 72
Reload: 65
Control: 68
the Arx-160 is a very good assault rifle, they have good damage (same damage that the hk416) and very good control. They have a good accuracy and have a large number of custom parts. For a ncash+gold gun is my favorite gun !!!