The M4 is a pre-made type of CAR in Operation 7. The M4 is shorter and lighter than other pre-made CARs and comes in two types: the M4 Carbine and the M4 Commando. Both types can be outfitted with a large variety of modifications.
M4 Carbine
Edit
The M4 Carbine is very accurate for an assault rifle and is lightweight. This is a good starter gun for those just starting the game or who are not very experienced in first-person shooters.
"Colt M4 is built to maximize mobility. It uses 14.5 inch barrel and 5.56X45mmNATO ammo to provide satisfactory power and accuracy. M4 Carbine supports 4 sliding buttplate to increase user`s controlment. M4 Carbine is also built for convenient attachment of M203 Grenade launcher. Model R0977 supports s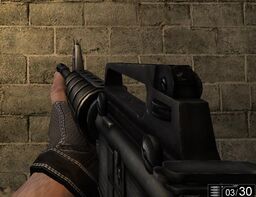 afe/single/rapid fire modes."
Quote from the Operation 7 main website.
M4 Commando
Edit
The M4 Commando is a shortened version of the M4 Carbine, made for portability.
"Colt M4 Commando is the smallest model from the Colt group and uses 5.56X45mmNATO. The 11.5 inch barrel is for quick and accurate shooting and better mobility. It is typically used for close-range battles and speical missions. Many special forces all around the world use this weapon. M4 Commando supports 4 sliding buttplate to increase user`s controlment. Model R0933 supports safe/single/rapid fire modes. It is good for close-range shooting and suits assault-style battles." Quote from the Operation 7 main website.
It has a shorter barrel, and therefore less accuracy, but has higher control and mobility ratings.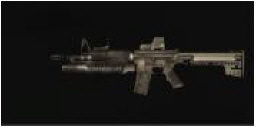 The M4 RAS(Rail Attachment System) is a customized version of the M4 Carbine. It features an M4 handguard with an M203 Grenade Launcher equipped. Also equipped is a DOTech 552 sight and VTRTOR Rifle buttstock. The M4 RAS features a tan color on its parts.
The M203 Grenade Launcher allows the player to launch grenades at very high ranges at the cost of accuracy. The VTRTOR Rifle stock compensates for the reduced accuracy although less controllable than the regular M4 Carbine. The DOTech sight has a higher zoom than iron sights but makes the weapon less controllabe.
Ad blocker interference detected!
Wikia is a free-to-use site that makes money from advertising. We have a modified experience for viewers using ad blockers

Wikia is not accessible if you've made further modifications. Remove the custom ad blocker rule(s) and the page will load as expected.