weapon description:' The scar-l is the light version of the scar-h is have a more rapidly rate of fire but they have less damage and have a smaller cal. that their brother the scar-h.
Weapon stats:
Caliber: 5.56x45 mm
Fire mode: Semi/Full
Accuracy: 69
Mobility: 76
Range: 69
Reload: 65
Control: 66
The scar-l is a good weapon for close to medium combat i must like the scar-l than the scar-h because they have less recoil and they have more rate of fire and reload time.
thumb|500px|right|a small video of scar-l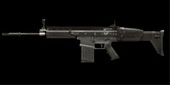 Weapon description: The scar-h is a bigger variant of the scar-l they have hight caliber and they dealmore damage but they have a big recoil and have a long reload.
Weapon stats:
Caliber: 4.6x30 mm
Fire mode: Semi/Full
Accuracy: 74
Mobility: 72
Range: 76
Reload: 59
Control: 59
The Scar-H is a good weapon for medium range or for long range on semi auto mode. I dont like this gun because they have a more recoil than the scar-l but if you search a semi auto assault rifle for long range map exemple hell way 3 this weapon is for you !thumb|500px|right|scar-h weapon test